Notturno Concertante began life in Benevento in the eighties on the initiative of Lucio Lazzaruolo and Raffaele Villanova. Their debut album,

The Hiding Place

, was released in 1989, influenced by bands such as Genesis and Marillion. It was followed by

Erewhon

(1993),

News From Nowhere

(1994) and

The Glass Tear

(1994). After a long hiatus and some line up changes, in 2002 they released

Riscrivere il passato

(Re-writing the past) and after another long period and many years of work, in 2012 they finally released a new album,

Canzoni allo specchio

(Songs in the mirror), in my opinion their best so far. The line up on their last work features Lucio Lazzaruolo (classical guitar, keyboards), Raffaele Villanova (guitars, vocals), Giuseppe Relmi (lead vocals), Carmine Marra (sax, clarinet, whistles), Carmine Meluccio (violin), Gabriele Moscaritolo (accordion), Antonio D'Alessio (bass), Giuseppe D'Alessio (bass) and Simone Pizza (drums).


Notturno Concertante

The overall sound of the band is more original, personal if compared with the neo-prog of their early works and features many Mediterranean colours and psychedelic touches. The packaging is very rich and features the art-work of

Fabio Mingarelli

a.k.a. Ming, a booklet with the lyrics and the liner notes written by the Italian critic Donato Zoppo (with an English translation) and many pictures.
The opener "Ahmed l'ambulante" (Ahmed the hawker) is a kind of acoustic psychedelic trip in a cold winter night, a bad trip. It was inspired by a poem by Stefano Benni describing in a surreal way the death of an African hawker, a "vu cumprà". It happened in the middle of the night under a desert arcade in an Italian city when a bunch of hooligans smashed his merchandise and hit him in the head with a stick, just for fun. Ahmed died but the goddess of the night came down to take his spirit back home... "Ashiwa, the goddess of the night came to set me free / She kissed my temples and healed my wounds / They didn't see her / I didn't die in a canvas bag but on a big pyre of ebony in the heart of the forest / And my people sung for forty nights...". This is a really good track but Notturno Concertante were not the first band who interpreted Stefano Benni's verses: in 1994 the Modena City Ramblers recorded another excellent song inspired by this poem on their debut album Riportando tutto a casa.
Next comes "Young Man Gone West", more relaxed and lighter. It's an instrumental track featuring violin and whistles in the forefront that drives you from East to West in a musical journey full of colourful nuances. According to the liner notes, this piece is dedicated to five young Kurdish migrants who died during their journey to Western Europe and whose corpses were found near

Grottaminarda

, not far from Naples. It leads to the dreamy, melodic "Come il vento" (Like the wind) that was inspired by a reflection about the charming, seductive power of words. The lyrics describe the feelings of a man who can hear the words of his lover echoing in his head in a starry night. The words are like a raging river that could submerge him... "Speak to me / Whisper to me / Mumble in my ear / Like the wind...".
"Le anime belle" (The beautiful souls) is another beautiful, dreamy ballad. It's a piece dedicated to all the daydreamers who keep on fighting against the windmills in name of their ideals. "The daydreamers are volunteers in a war that they want to lose...". According to the liner notes this song was written to honour the memory of the late Antonio D'Alessio, bassist of the band who died in 2008.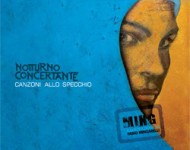 "On Growing Older" is a short acoustic instrumental track built upon a nice guitar arpeggio. It leads to "The Price Of Experience", a piece sung in English that recalls the neo-prog sound of the early works of the band (you can find a first version of this song on the album The Glass Tear from 1994). The lyrics evoke hopes sacrificed to the needs of the daily life... "All at once everything seemed to loose its magic and everything was so hard to bear / Someone said this is the price of experience, but I felt like I just had enough / When did I become another house with no door? / When every distance seemed to break my heart...".
"Lei vede rosso" (She sees red) is a melancholic track featuring a nice sax work. The lyrics describe a woman on the verge of madness, everybody knows her but how can people really understand what's going on in her mind? She keeps on staring at the washing-machine and can't see nothing but blood, the blood of her lover who died in a car accident... "A veil falls behind her eyes / Your world becomes completely red...".
"La milonga di Milingo" (Milingo's milonga) is a nice instrumental featuring warm, sensual Latin American influences. The title is a kind a "calambour" (a pun) that combines the words

Milonga

(a South American dance) and

Milingo

, a criticized former Roman Catholic archbishop. It leads to another track full of sensuality, introduced by a saxophone solo, "Canzone allo specchio" (Song in the mirror). It's a love song that starts from an image in the mirror which push a man to reflect about his errors... "You know there is nothing to say / Silence speaks for us today / I just remember that I was lost / And you found me...". The romantic, short instrumental for classical guitar and piano "Ark En Ciel" (Rainbow) concludes the album
On the whole "Canzoni allo specchio" is a very nice work. I suggest to listen to it in streaming from the official website... Judge by yourselves!