Toto Torquati is an Italian artist who, after the release of two solo albums in the early seventies, continued his career as a session man, arranger and producer. During the years he collaborated with Italian pop stars and singer songwriters such as Claudio Baglioni, Lucio Dalla, Mina, Patty Pravo, Francesco De Gregori, Rino Gaetano and many others but he didn't release any other solo album until 2009. On the 1st of April 2009 I was in Rome and I had the chance to attend the showcase where Toto Torquati presented his new work, "Vita, Amore e Musica" (Life, Love and Music). He was introduced by Claudio Baglioni (a romantic singer song-writer who is very famous in Italy, although not one of my favourites) who sung three of his old hits arranged by Toto Torquati (included the hit "Questo piccolo grande amore"). Then Toto Torquati performed almost all the tracks of the new album with the help of a band of young musicians featuring Antonello Ruggiero (drums), Stefano Napoli, (bass, upright-bass), Fabio De Vincenti (electric guitar), Simone Gianlorenzi (electric and acoustic guitar) and Valeria Scognamiglio (violin). Toto Torquati was like a keyboards wizard performing charms and the show was emotionally intense and full of pathos. I was really impressed by the vitality and the energy he could transmit to the public.
Toto Torquati 2009
The new pieces are almost completely instrumental but on stage a speaker read a short poetical commentary for every track (in the CD booklet you can find all the commentaries written by Luigi Calabrò).It took almost twenty years to Toto Torquati to compose, record and refine the tracks on this album, but the result is remarkable. In the booklet "Vita, Amore e Musica" is described as "acrobatic music spreading between two majestic frontiers, life and death" and Toto Torquati here really seems oozing love for life and music...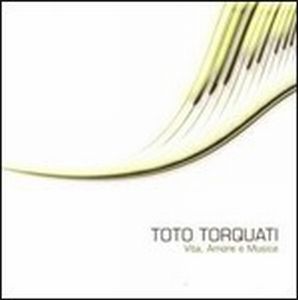 The opener is a solemn crescendo, the beautiful, classical inspired "Inno", then there's a sudden change in mood and atmosphere with the crazy and synthetic happiness of "Dance". "Tema per Giulia" is romantic and dreamy, while "Ritratto" features a strong flavour of "Mitteleuropa" where "into the choreography of notes in black and white, a light melancholy goes up like a thread of smoke...". "Suonando a casa" features a great swinging piano work. "Viaggio" is a beautiful musical journey around the world with an exotic taste and a perfect interaction between bass, guitar and keyboards. "Valzer" is another great track where European tradition is blended with a colourful touch of jazz. "Perhaps you have to caress your dreams if you want that they keep faith in you": the long, jazzy and dreamy "Sogno" leads the new horizons of peace and serenity of "Orizzonti".
"Maestoso Pater correndo", is introduced by a church-like organ and is my favourite track on this album. Listening to it you can fly high "on the wings of a prayer rooted in your heart...". Next comes the quiet, delicate "Ninna nanna" that is described as "a whisper to listen to into the voiceless confusion of men...". Then, in the "Jazz Paradise", you can listen to "the stars playing piano" before the last track, "Vulcano" (mentioned as bonus track), featuring a nice groove and excellent keyboards parts.
Well, more the seventy minutes with no room for boredom... An excellent album, well performed and recorded that should be appeal Italian prog fans.
More info: