Altare Thotemico come from Emilia and are based in Parma, although the members of the band come from different cities. The band was formed on the initiative of vocalist and poet Gianni Venturi and Leonardo Caligiuri (keyboards, flute) with the aim of blending progressive rock with psychedelia and poetry. The line up was completed by Enrico Scaccaglia (guitars), Valerio Venturi (bass) and Davide Zannotti (drums) and in 2009 they released an eponymous debut album on the independent label Ma.Ra.Cash Records. The album features a nice artwork by Domizia Parri while the members of the band showcase a good musicianship and some good ideas.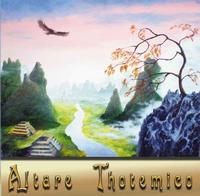 The nostalgic, heartfelt opener "Il canto che sprofonda" (The singing that makes me crumble) begins softly with a delicate guitar arpeggio and a soaring flute. The lyrics evoke a lost, unforgotten love and powerful memories begin to fill an empty room... "Between a smile and a tear / I feel with my eyes shut a clear image of you / And a thin singing makes me crumble...". Well, here some keyboards passages recall PFM's "Impressioni di settembre" but the result is good. Next comes the bizarre "Lo sciamano" (The shaman), that tries to lead you beyond the doors of perception in a quest for a singing of light while shadows melt in a psychedelic crescendo.
"
L'interessante vita del topo" (The interesting life of the mouse) in my opinion is not at the same level of the previous tracks. The music recalls The Doors with a touch of Area but the performance of the vocalist here is not convincing at all. The following "Demon" is better. It starts with a church-like organ passage, then hard guitar riffs come in and the vocals evoke a playful devil who think that Paradise is too boring... "My name is Demon Lucipher, morning star / And on my forehead I proudly bring the mark of Cain...".
Altare Thotemico 2009
"
Computer organico" (Organic computer) is another psychedelic track with Oriental influences and experimental vocals drawing neuronal migrations, empty consciousness and the relativity of Time. "L'addormato" (The sleeping man) features a slow, alcoholic pace and seventies echoes and leads to the dark, dreamy "La mente mia" (My mind), one of my favourites track on this album... "The great bard can begin the bright song from the oversea... A wave of love breaks the chains / Of hearts crushed by too many pains...".
"
Suite per Marianna" is another good track that could recall Pholas Dactylus with its peculiar, visionary poetry and evocative musical colours... "My mind has roots / That's why sometimes I switch it off...". The spacey "Oltre" (Beyond) concludes the album with some reflections about the relativity of Time and the true meaning of life...
All in all this is an album with light and shadows where you can find some good ideas and less convincing passages. This work is not flawless but I think that this is a band that deserves credit and I'm looking forward to listen to their new album...
Altare Thotemico: Altare Thotemico (2009). Other opinions
Paul Fowler: Altare Thotemico are a band tipping their hat to the classic seventies Italian prog bands, yet with enough of their own identity to make this not a totally retrogressive release. Their prog skilfully blends elements of rock, blues and jazz together with an inventive touch of zaniness moving into avant-gardism in places, particularly at the end of the album on Oltre... (read the complete review HERE).
Jim Russell: This is the kind of album which I find thrilling and rare these days. First, it rocks without any noticeable metal influence. Remember when rock could be damn heavy without metal influence or obligatory shredding? Second, it sounds warm and homey on the production side rather than overly slick and coldly mechanical. Third, surprises! Yes, we have songs here that will try anything and everything, even injecting pure weirdness like they used to do in the old days. Thankfully there are almost no English vocals; most singing is fantastic dramatic Italian... Be aware that Altare Thotemico is not especially entry-level RPI. While much of the music is I think universally approachable, the delivery and style of vocalist Venturi demands listeners willing to go to the edge with him... (read the complete review HERE).
Read the interview with Altare Thotemico at progarchives. Click HERE
More info: